9 ways to create the first commission with Affiliate Marketing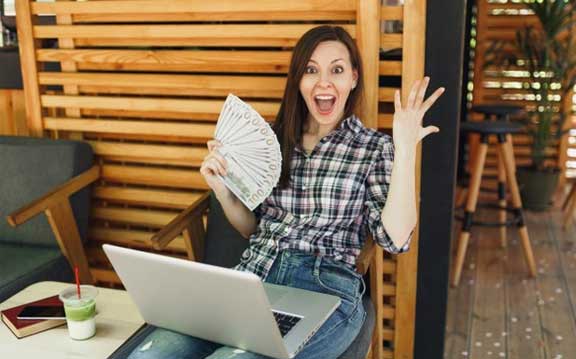 Affiliate Marketing is one of the best make-money-online methods today. Many affiliaters could earn tens of thousands of dollars per month, but it is said that "The first step is always the hardest". Understanding that, we would like to introduce "9 ways to create the first commission with Affiliate Marketing".
1. Using Facebook Ads
Facebook is one of the most popular social networks with more than 2 billion users; therefore promoting on Facebook is a good choice for affiliate newbies.
Running Facebook ads is very familiar with marketers. Facebook ads is so smart that it could optimize and display advertising to people who really needs it. So you don't need to put much attention towards targeting. Instead, you should focus on building content to attract the right audiences.
2. Using Google Ads
Like FB, Google also provides its own advertising service. The difference is that GG ads are based on search keywords. When the customers search something on GG, it means that they are looking for the product/service.
What you should do is optimizing the title, making it attractive enough to increase your CTR (click-through rate).
3. Using chatbot
If you have your own fan page with a number of followers, using a chatbot is a smart decision. Depending on the fan pages subject, choosing a product that is suitable for followers can help you send messages sequence with enclosed affiliate link to your users. The most popular chatbot platform tools such as Chatfuel or Manychat
Many statistical figures point out that the number of followers who read automatic message sent by chatbots is higher than leaving an automatic reply.
4. Using Email marketing
This is also a type of sending messages sequence. But unlike chatbots, Email marketing isn't limited to the number of words you could send. It means that you get more "space" to persuade customers to click to the product link.
Email marketing is a very popular mediums with affiliate marketers. Moreover, it doesn't require you to collect so much data at the beginning. All you need to do is to create an account from popular platforms such as MailChimp, Intercom, etc and start sending to the available email lists that you own.
The most important and challenging issue here is building content. Making it appealing and engaging to your readers.
5. Building website
This is considered as the most stable way to start with affiliate marketing because almost everything on the website belongs to you. Building a website, choosing a niche and writing good content. Is the most popular way of affiliate marketers around the world. Although you have to spend much more time and effort, the commission at the beginning may be small. You need to understand that the rewards later is really worth the time and effort put in.
6. Sending affiliate link to your friends
This is the easiest way to get your first orders. Your friends could buy at a low or discounted price and you get to earn commission as well. Killing two birds with one stone!
While this could be a good motivator to start. This might not be the best method in the long run because the number of friends are limited. However taking into consideration of their shopping behaviour, factors affecting their purchase journey. You could use that as a way to create customer profiles to reach your target audience
7. Distribute affiliate link on FB groups
Typing "coupon", "voucher" on FB, you can see that there is a huge number of groups, both large and small, on which people share vouchers/coupons of E-commerce websites like Amazon, eBay, Walmart,... Admins on those groups are all affiliate marketers.
Or you could join in specific groups, for example, book groups, beauty groups, technology groups..., write some review posts about the products/services you like and attaching affiliate link to the post. If your FB account owns many followers, you could do the same thing on your individual wall.
8. Distribute affiliate link on Youtube
Youtube is the biggest video-sharing website in the world with over 1 billion users. The best thing is that you make money not only from the affiliate link put under the description but also from videos' view.
This benefit is completely easy to understand because making a video wastes more time, money and effort. But it's clear to see that a video with both images and sounds could influence on customers better than an article with words. As a result, customer would put more trust in you, click to your affiliate link and buy.
9. Using affiliate link for the items you purchase
It sounds funny but I'm sure that many newbies use this measure. It's not illegal on ACCESSTRADE so why not give it a go. By this way, you could learn how ACCESSTRADE works as well as save a small sum of money on your purchase.
Conclusion:
In 9 ways above, the sixth, seventh, eighth and ninth is the easiest but not steady, you only could do sometimes. The fifth is the most stable and high-valued but requires much more time and effort. Whichever you choose, hope you will be successful with Affiliate Marketing.