If you already have a TikTok for Business account, all you need to do now is create an account through the TikTok Ads Manager to access all of TikTok's advertising tools. The TikTok Ads Manager simplifies the creation, management, and tracking of TikTok advertising campaigns for marketing teams. TikTok also provides a database of vetted tech and creative partners to support marketing campaigns so if you need help creating or improving your ad campaign, check out the TikTok Marketing Partners library.
The 5 Types of TikTok Ads
TikTok makes it easy for brands to create unique advertisements that attract followers at each stage of their TikTok user journey. The five different types of TikTok Ads that can be used to shape your campaign are:
1. In-Feed Ads
In-Feed Ads appear on the "For You" page just like regular TikToks and the only advertisement that can be made by users themselves. Add a CTA button to your In-Feed Ads to encourage viewers to take action, this will increase conversion rates.
2. TopView Ads
TopView Ads can last up to 60 seconds and are displayed when TikTok users open the app for the first time that day. To ensure that viewers don't swipe away and miss your TopView Ad for that day, save TopView Ads for your longer promotional material and most creatively designed content.
3. Branded Hashtags
Any user can add a hashtag collection to their TikToks before posting them for free, however Branded Hashtags must be created using the TikTok Ads Manager. Consider Branded Hashtags to be reserving a specific hashtag for a specific period of time, businesses who use this form of ad have exclusive access to the hashtag. For example, haircare brand Briogeo created a hashtag and branded challenge to encourage their audience to create and share videos using the hashtags #BWellChallenge and #briogeo.
4. Branded Effects
Branded Effects are also the exclusive version of a publicly available tool. Branded Effects are 2D, 3D, or AR stickers that TikTokers can apply to join the movement initiated by your brand when creating their own videos.
5. Brand Takeovers
Brand Takeovers combine all of the best features of In-Feed, TopView, and Branded Hashtags to create the ultimate TikTok advertising experience. Availability is scarce because TikTok only allows one business to do a Brand Takeover per day.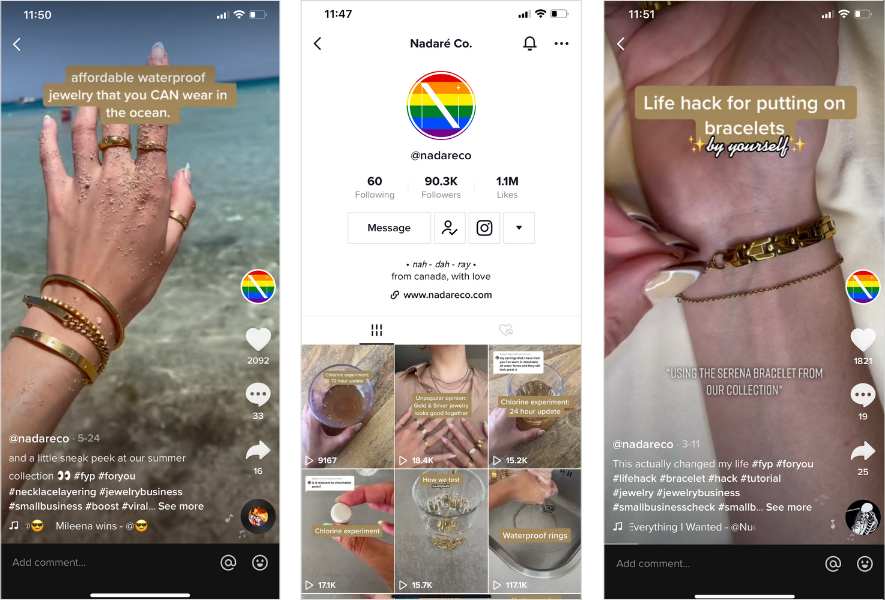 Source: later.com
TikTok For Business Ad Manager 101
To create a TikTok For Business ad campaign, go to your TikTok for Business portal. You can pick between "simplified mode" and "custom mode," with simplified mode being more user-friendly to newbies, and custom allows for more customization for advanced users.
1. Set a campaign goal
Traffic, engagement, or leads.
2. Choose an audience
Select a location, then choose automatic audience targeting, or manual.
3. Set your campaign budget
Your options are a daily or a lifetime campaign limit (you can't change this after you set up the campaign or ad group). The minimum daily budget/total budget for an individual ad is $50 USD and for an ad group is $20 USD.
4. Design the ad
You can upload a brand video or an image, or turn to the TikTok Marketing Partner library for creative support.
Closing
In 2022, marketing moves at the speed of the internet, brands who understand where and how conversations are taking place will outperform their competition in the coming years. For brands looking to stay on top of the current marketing trends, this means taking advantage of all new social media platforms have to offer and TikTok is on track to become the most popular social app in the near future. TikTok for Business allows companies to access previously untapped demographics by producing compelling video marketing campaigns and ads that capture and convert viewers into loyal brand followers.